Nowadays every newbie mic enthusiast asking us that what to choose when it come into Usb Microphones vs Xlr Microphones, the answer is simple, take a rest and one cup coffee then thinks about your demand and requirements. So for you here we are going to talks about Usb and Xlr Microphones to clear your mind and thus smart your search when you buy one of the best Usb microphone or Xlr microphone for your sounding list, as well as helps you to choose the one which has well-suited to your choice and demand as well. So stay here and read the article, we hoped that after reading this post your mind will be clear and ready to take some step as well.
Usb Microphones VS XLR Microphones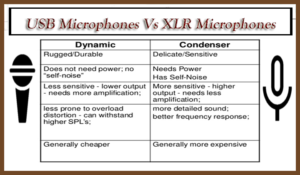 Usb Microphones
The most easiest and cheap solution to your Sounding list are the Usb Microphones right now. The Usb Microphones are simple to set up and there is no need to install a drive or any extra gear but simply plug the Usb Microphone into your Pc or laptop Usb Cord and enjoy your amazing sound output as well. There is also no need to add an audio interface or phantom powers but your system will provide the current to go straight forward. You can do all the sound activities with Usb Microphones, from home studio recording to professional recording everywhere the Usb Microphones will never leave you in the mid of the way when you want to record some big as well. The Usb Microphones are budget friendly than Xlr microphones and will never wash your pocket as well. we know many studio friends who are using the Usb microphones and pleasure with. So a little price can give you a lot of fun.
Xlr Microphones
The Xlr Microphones are multi-accessorized microphones that can be done the job with the combinations of many tools like, Usb Audio Interface, 48 V phantom powers, external sound card and xlr cable as well. As you know that once you set up these extra accessories of the xlr microphone then you will be happy with them. The Set up is so complicated and the price is high than Usb Microphones but the sound quality is rock and will confuse your competitors when you using them as well. So the ball is in your court. Look at your requirements and decide that which one is best for you.